Flash Drive Format Recovery


iCare Data Recovery Software - recover files from flash drives
Flash drive is a small electronic device used to store data and featured portable and reobust than a hard drive with a USB interface ranging its capacities from 64MB to 256GB.
Since it is portable and with a large capacity, it has become one of popular data storage with PC users to make transfer of data, back up files... However some of the following errors often occurs with flash drive users and they need a solution.
Flash drive recovery/repair
Flash drive not recognized
flash drive data recovery
formatted flash drive by accident
can you recover files after reformatted flash drive
flash drive format error
flash drive format RAW
USB flash drive format error
USB flash drive disk not formatted error
USB flash drive throws format error
iCare Format Recovery is able to recover files from your flash drive when it has format error, or the drive was formatted by mistake.
---
Related Resource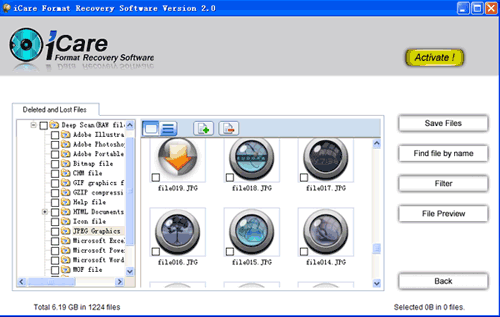 1, Download iCare Format Recovery on https://www.formatted-recovery.com/download.html
2, Connect your flash drive to Windows OS and run iCare Format Recovery, which will let you select the flash drive to recover files once you run it.
3, Preview lost files before registery.
4, Register and active the program to save files and you're finished.
Resource - Flash drive format errors
Besides the above flash drive format errors, here are some other similar problems that you may see you are not alone with flash drive problems.
USB Flash drive Format Error - my friend is borrowing my flash drive to save a project, the next day it says that it isn't formatted right and that to fix it we need to reformat it.
Error formatting flash drive
Flash drive refuses to be formatted
Flash drive needs to be formatted error
Sandisk flash drive not recognized
How to fix errors and format usb flash drives
Slax bootable USB flash drive error
Sandisk Cruzer Micro 1GB flash drive format error
USB Pen flash drive format error
Download iCare Format Recovery now!
Related articles